The artist is Malevich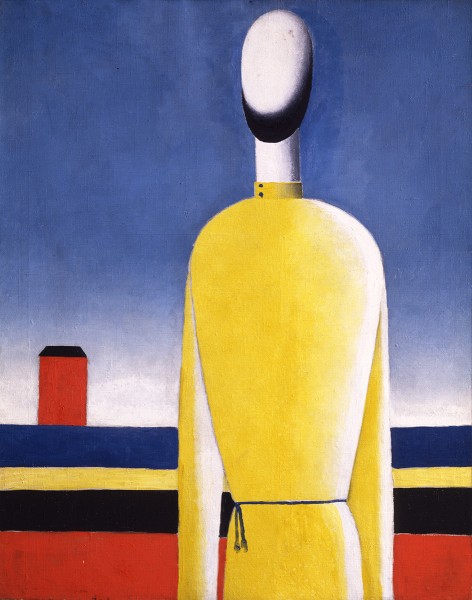 The picture, called Malevich, "a complex foreboding (torso in a yellow shirt)" is undoubtedly one of the artist's late works most expressive in drama, and the complete embodiment of his tragic attitude of those years.
The oppressive doom comes from the mute and faceless peasant, from the black-red mourning border of the earth, from the icy blue sky. The severity of the horizontal lines of the landscape enhances the state of numbness of a lone figure with helplessly lowered hands with its geometric regularity. As if the writer Leonid Andreev once said about him: "A naked man on naked earth".
A complex foreboding gives rise to the image of a lonely house on the edge of the earth. A red rectangle covered with a trapezoid of a black roof resembling a coffin cover is not a symbol of a quiet shelter at all. A frightening building in deserted expanses, like an impenetrable sarcophagus, in which life, will, happiness are forever walled up. The autobiographical notes are undeniable in this exciting image of endless suffering, abundance, and God -state: the Red House inevitably rhymes both in name and in meaning with a "big house", as the NKVD building on Litein Prospekt, which absorbed the life of a huge number of people. It contained, arrested in the fall of 1930, Malevich. The artist was lucky, he was released a few months later – the total terror was just gaining momentum.
In this picture, dating from 1928–1932, as in other works of the second peasant cycle, the tragedy of time undoubtedly reflected. Malevich, who feels that "the peasant Atlantis goes to the bottom," and with her his life, he wrote bitter words on the back of the canvas: "The composition has developed from the elements, a feeling of emptiness, loneliness, hopelessness of life".